Dog Rose
Florence Carr
09.09.2023 — 28.10.2023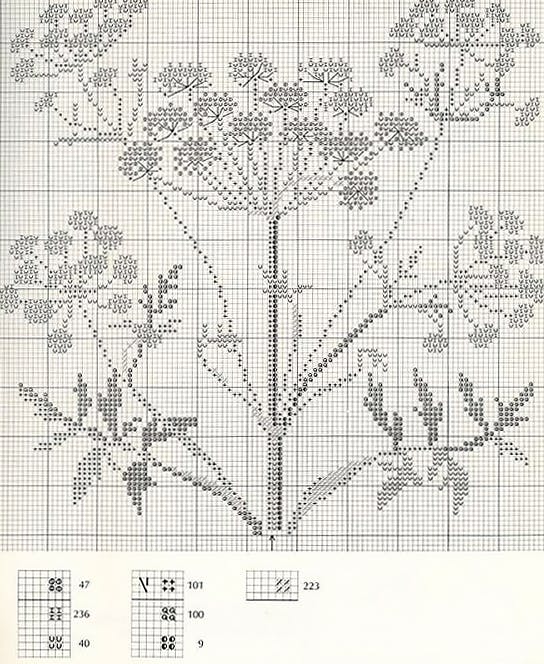 In Dog Rose, a tapestry of grids within grids unfolds. Geometrical patterns created by parquet panels intertwine with fragments of jacquard ribbon, each adorned with delicate floral ornamentation. Meant to evoke a sense of organic fluidity, these motifs, too, are stitched within infinite microscopic squares. Here stand two instances of what we might be compelled to call nature, confined within serried domesticity.
***
Florence Carr likes to pick her materials at a point when others seem to have given up on them. In the case of the oak parquet flooring, she found herself knocking on a door in North London after responding to a classified advertisement. While exchanging banknotes for a loaded plastic tote, the homeowners strike up polite conversation to divert from the awkwardness created in the intimacy of the door frame, asking if she, too, is doing up her house.
I find myself looking at this exact parquet now in wall-mounted assemblages, and it is as if the room has rotated ninety degrees. I'm reminded of a game I liked to play as a child, navigating my mother's house while holding mirrors, as I imagined myself walking on the ceiling. This home I knew so well was transformed into something entirely unfamiliar. Carr's installations are delicate gestures in such shifts of perspective. By sourcing materials that bear traces of a past, she sheds light on the stories woven within the fabric of everyday life. As it retains both form and essence, the wooden parquet plays itself; exposed, but not emancipated.
But when functionality is transcended as in Carr's installations, a world of interpretations unfurls. The works on view contain layers of memories as the used materials have in time fallen in and out of style, exchanging hands among owners. As if alluding to the contrasting richness of material history and immaterial memory enmeshed within the domestic space, a single imperative reverberates throughout the gallery, "Vergissmeinnicht", as one ribbon reads ("Forget me not"). Suddenly, every scratch in the used wood assumes the guise of a fossil, now markedly significant, a vestige of potential or actual histories. In this space, Carr in- vites us to rediscover the generative potential that resides within the interplay of memories and their residue. One of the great tragedies and beauties of the human mind: The more you recall a memory, the more the original experience slips away, until you become a stranger to and master of your own story.
– Dara Jochum
Florence Carr is based in London. Recent exhibitions include Salon d'été, Paris (2023); Stallmann Gallery, Berlin (2023); The Who Gallery, London (2023) and Paradise Row w/ Spring Season, London (2022).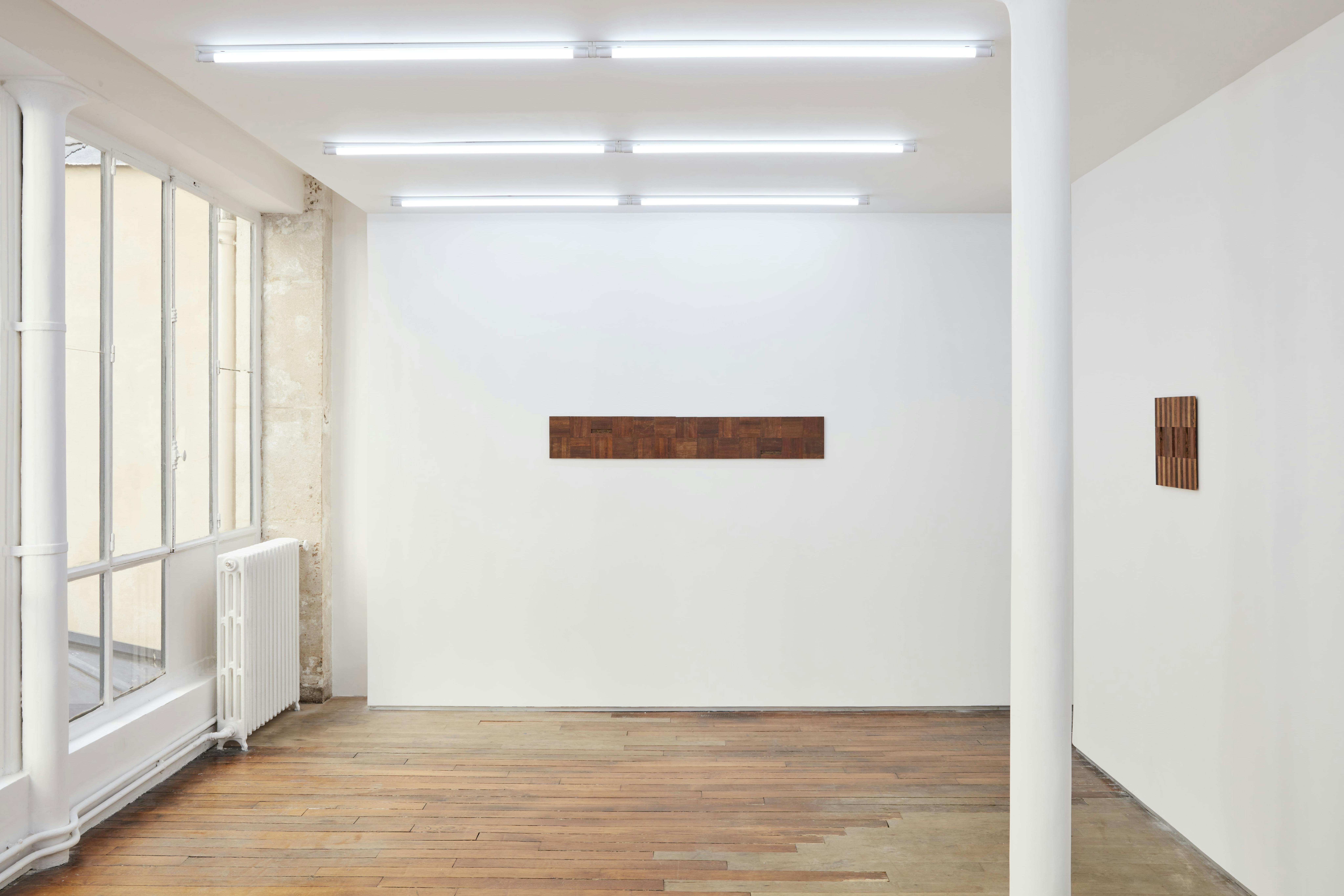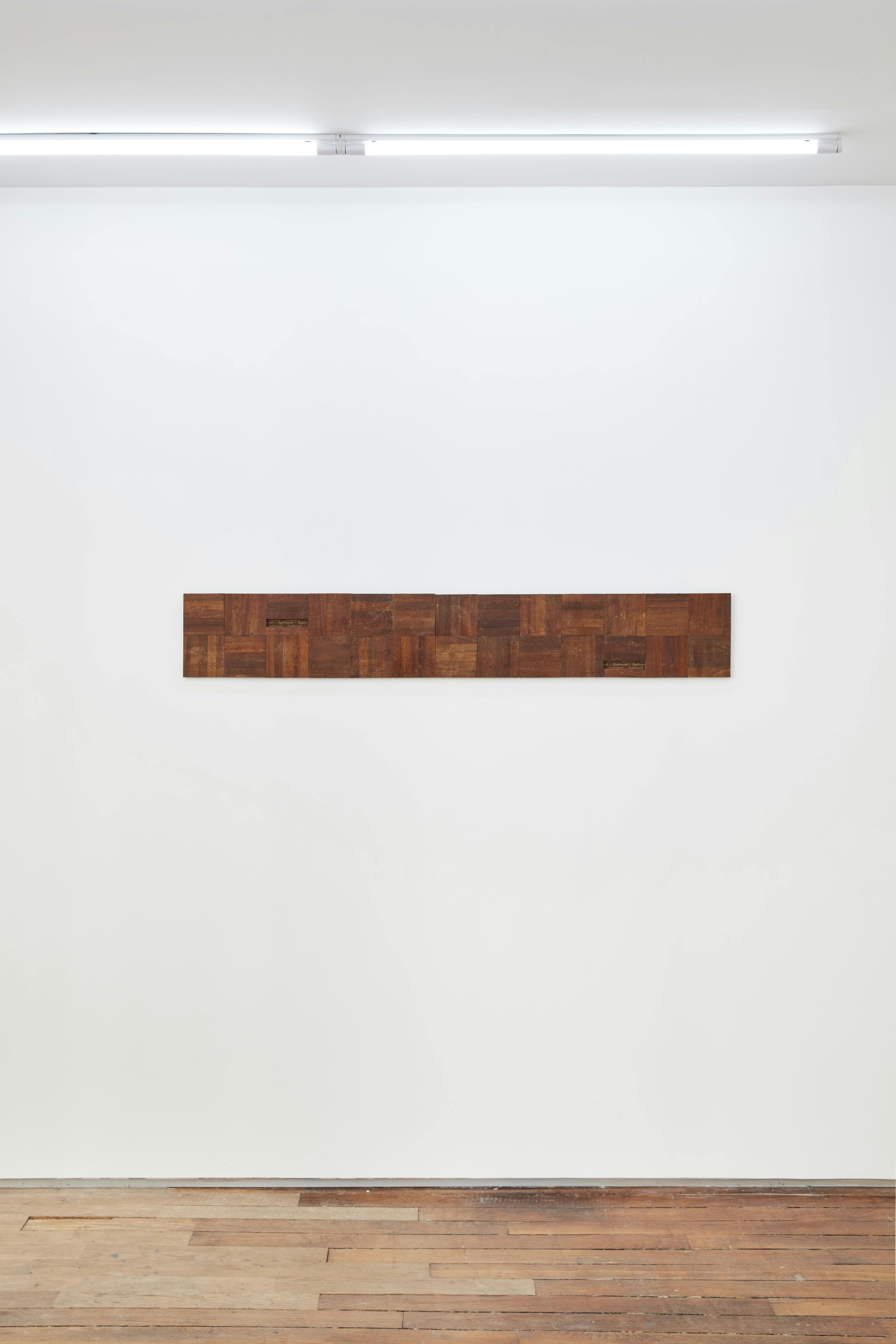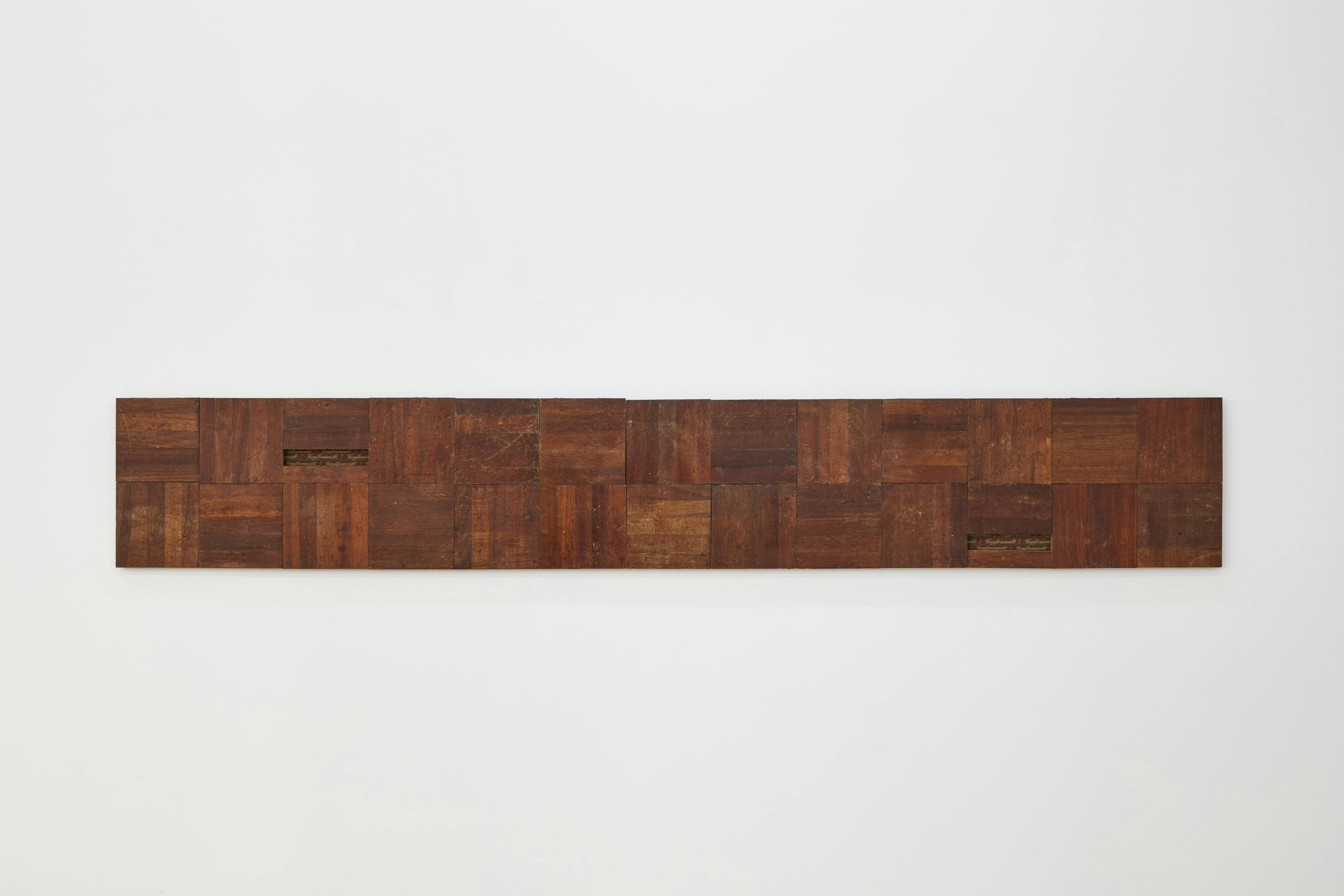 Forget-me-not II, 2023
repurposed parquet flooring, jacquard ribbon
23 x 149.9 cm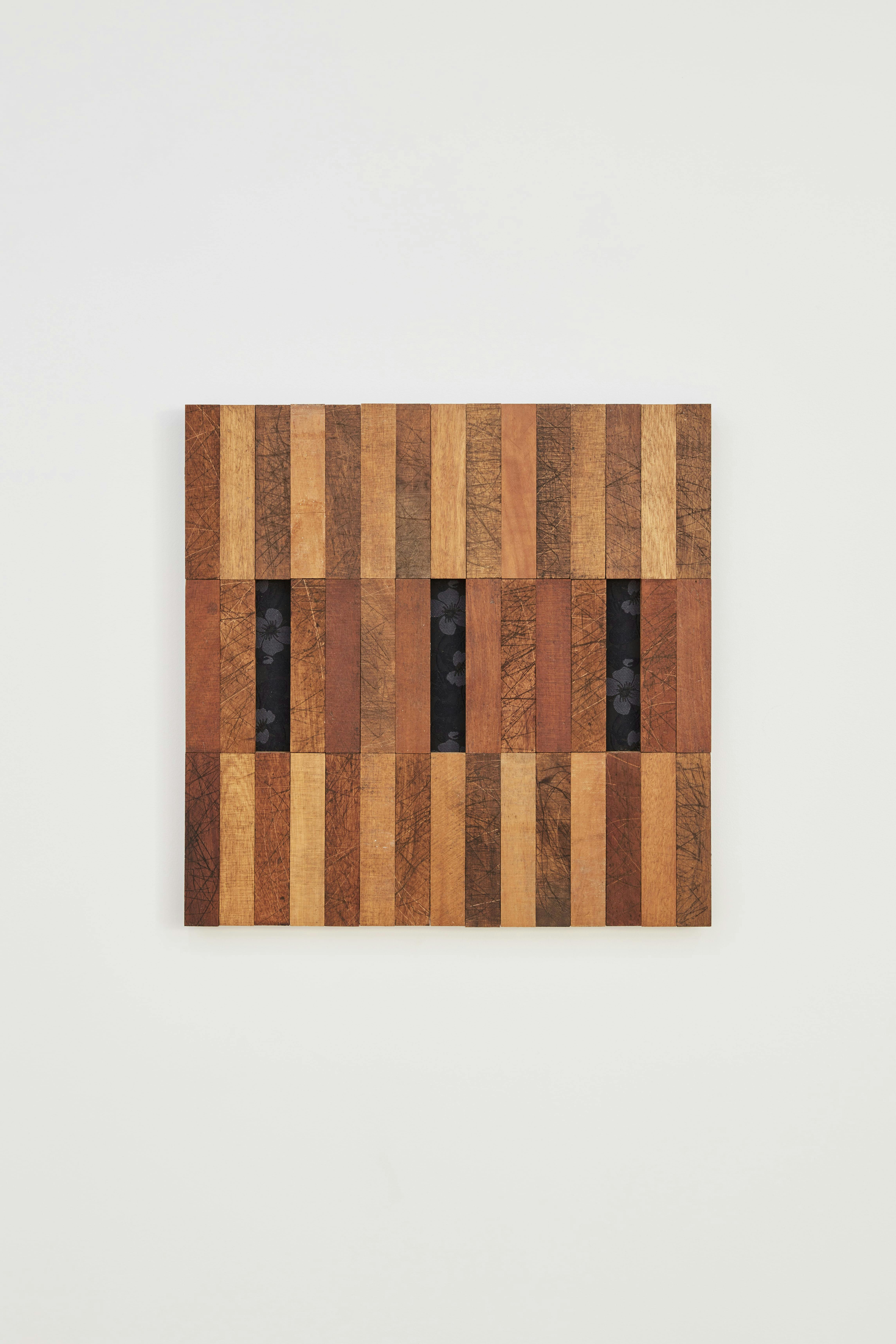 Dog Rose, 2023
repurposed parquet flooring, jacquard ribbon
34.5 x 34.5 cm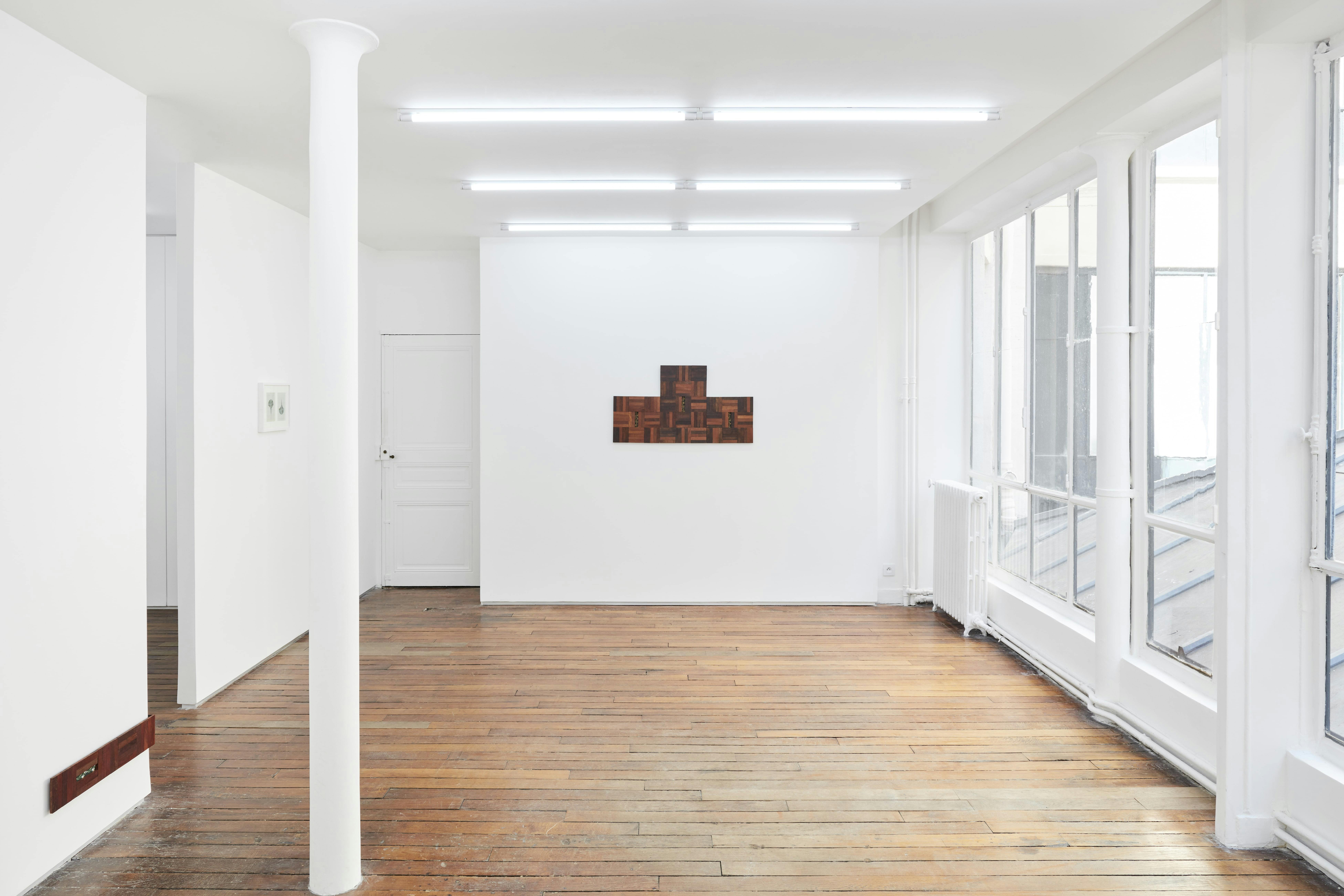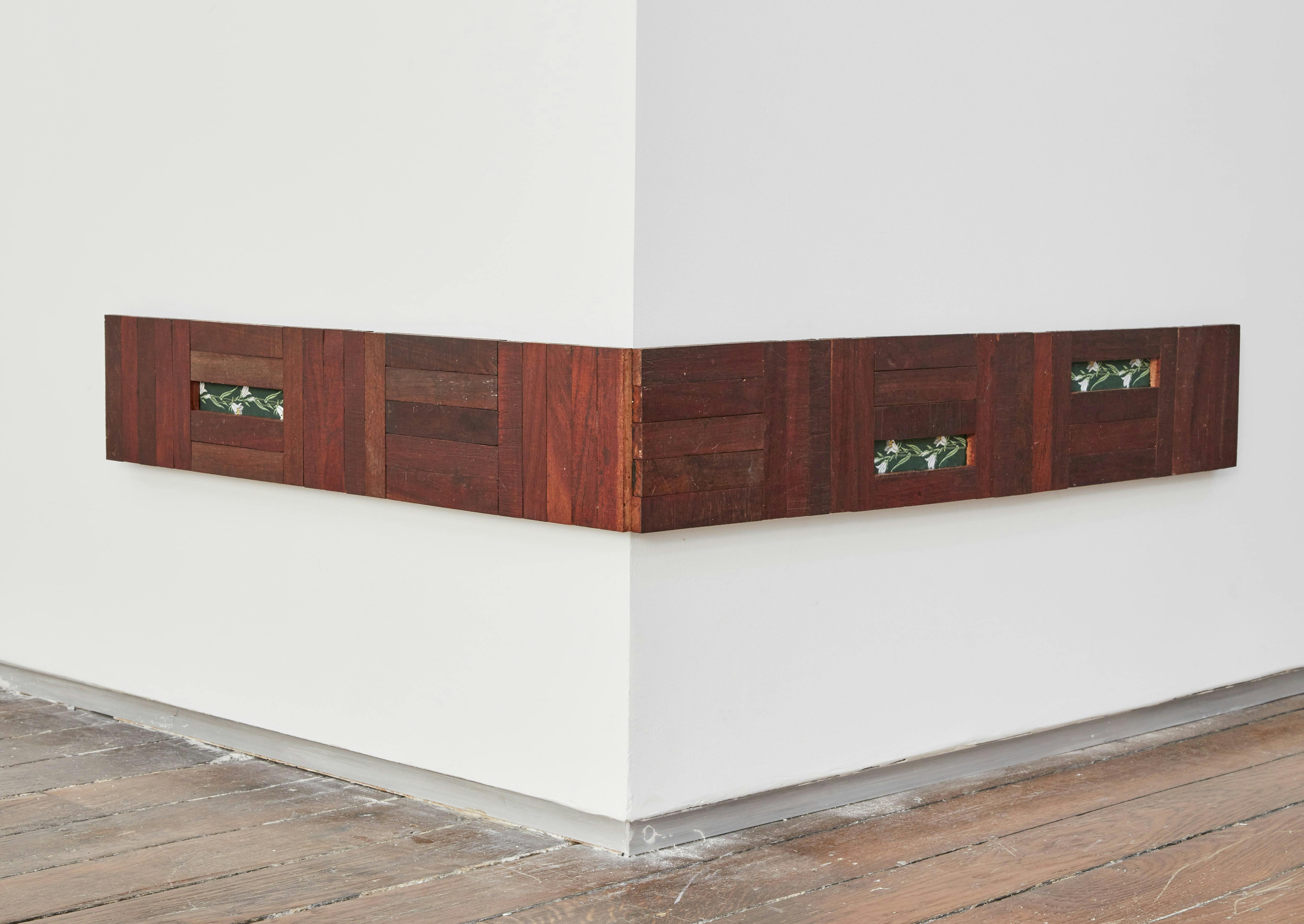 Fall, 2023
repurposed parquet flooring, jacquard ribbon
11.5 x 127.3 cm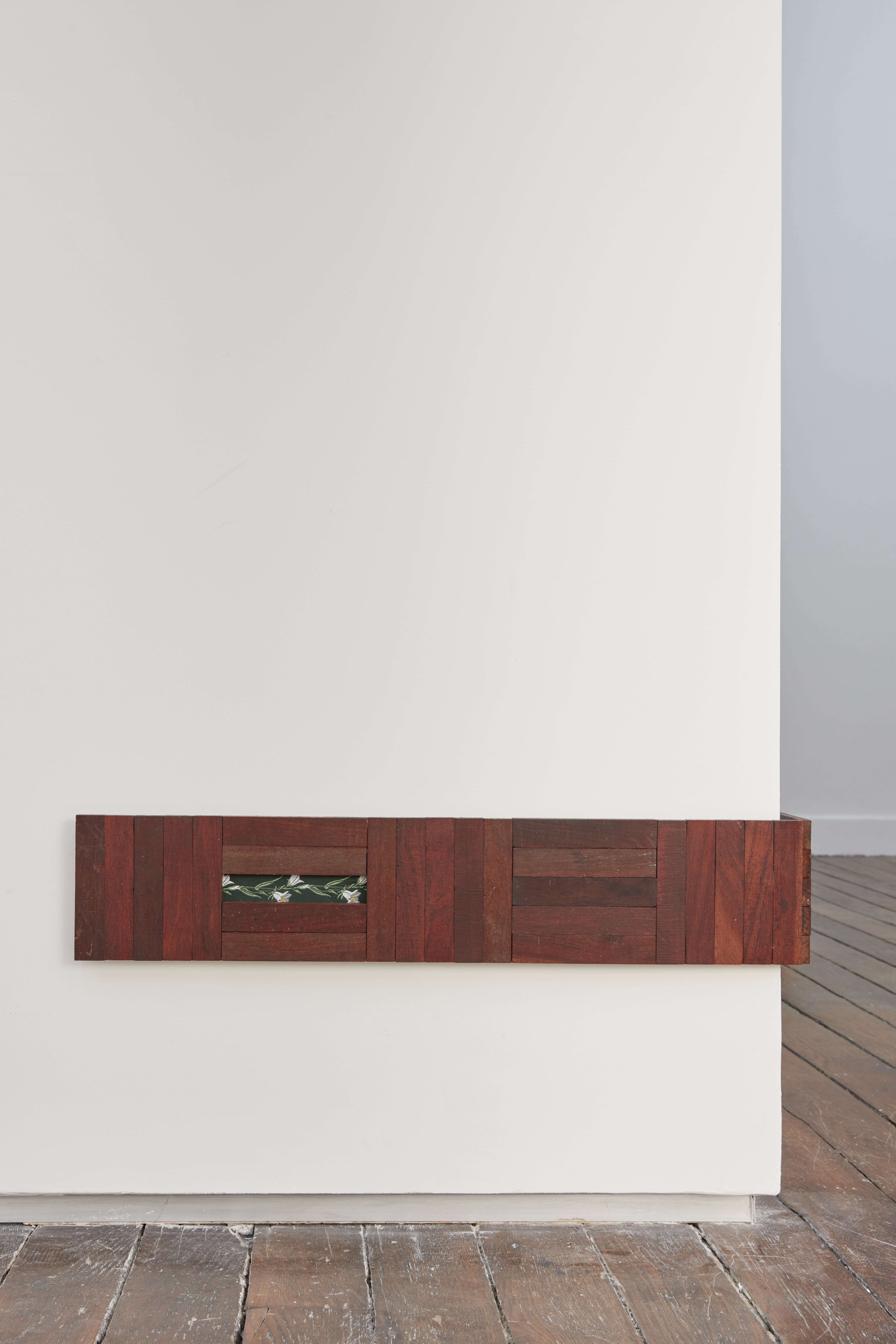 Fall, 2023 (detail)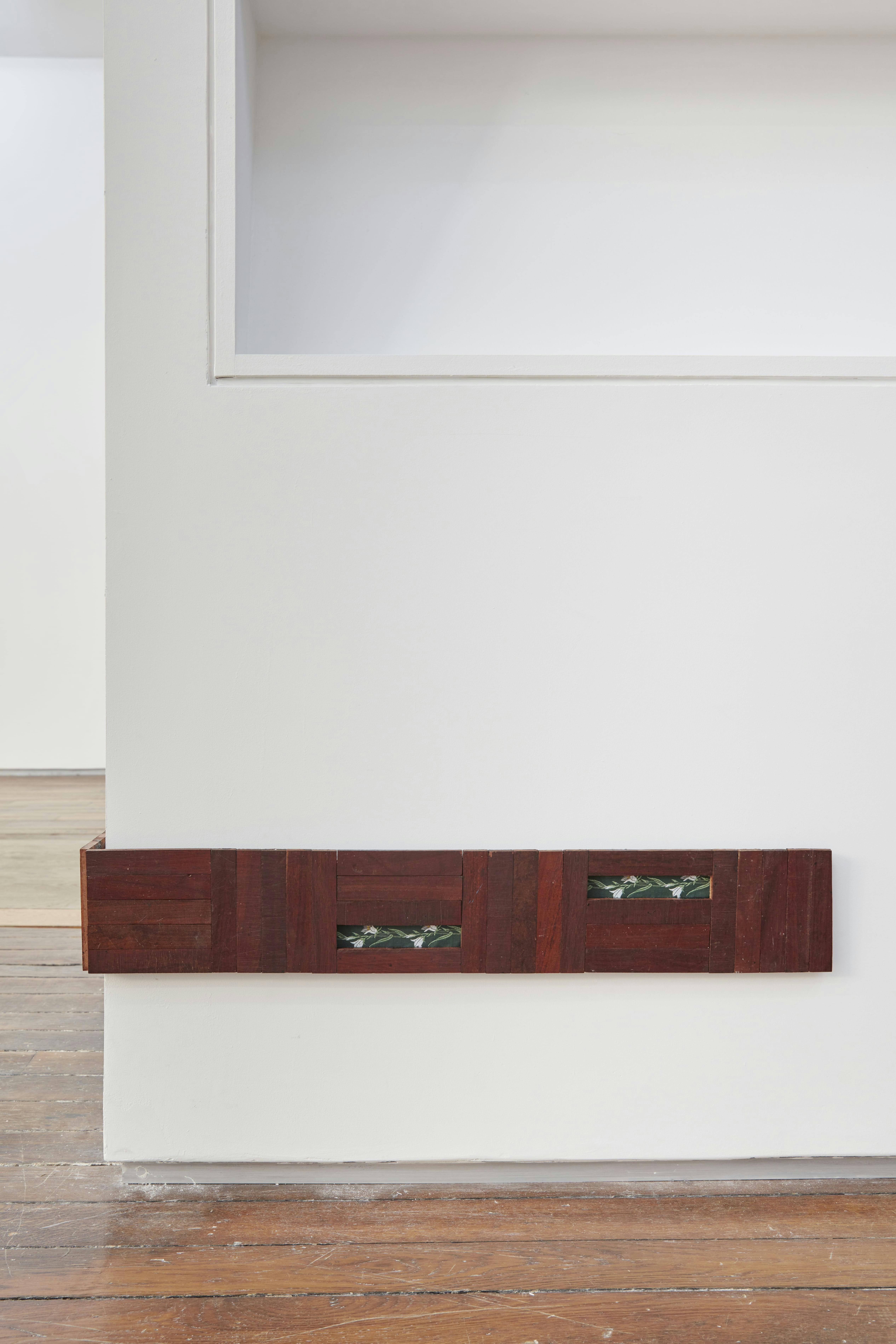 Fall, 2023 (detail)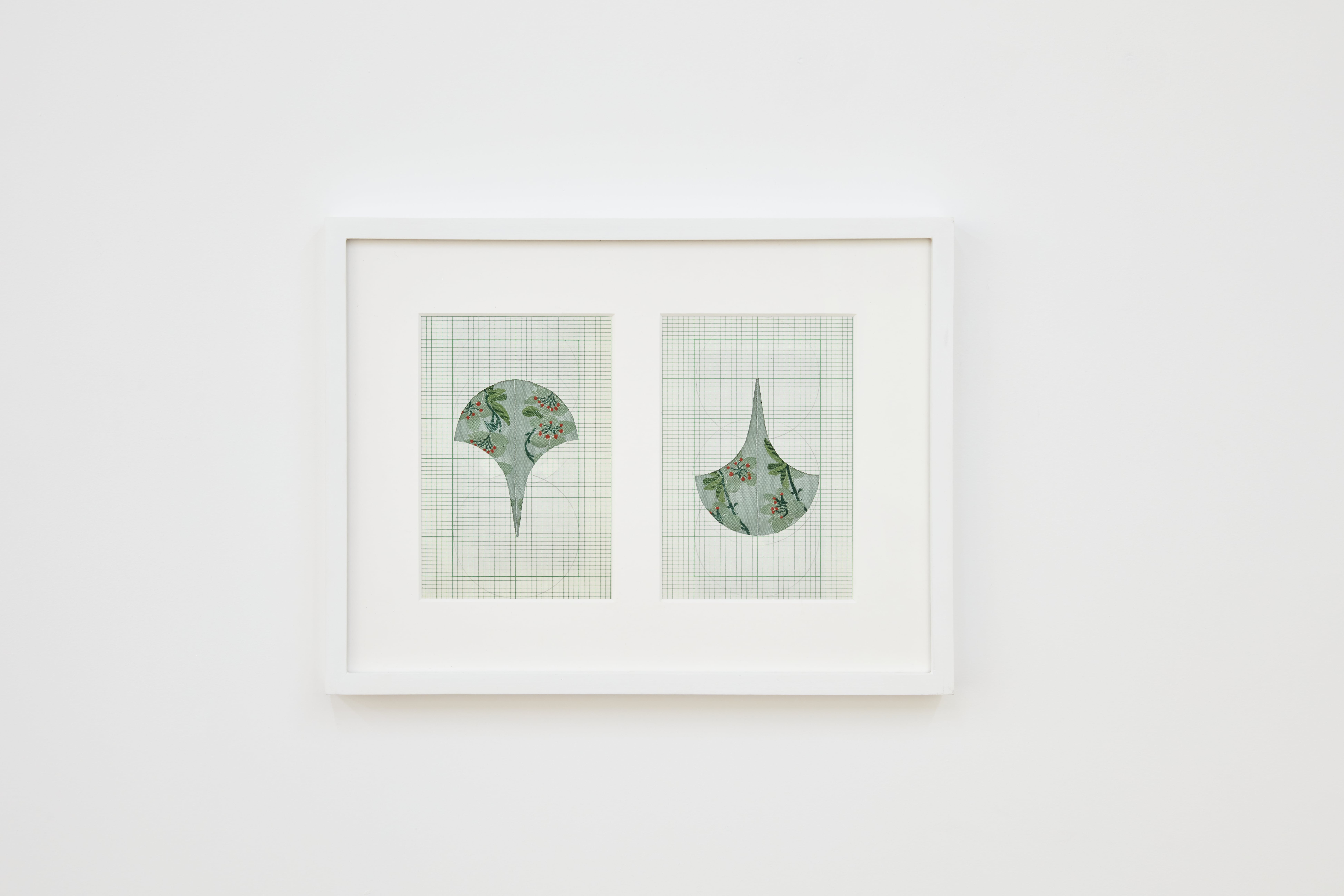 Cache, 2023
jacquard ribbon, graphite on paper knit card
28 x 20 cm, 37.5 x 28.5 cm (framed)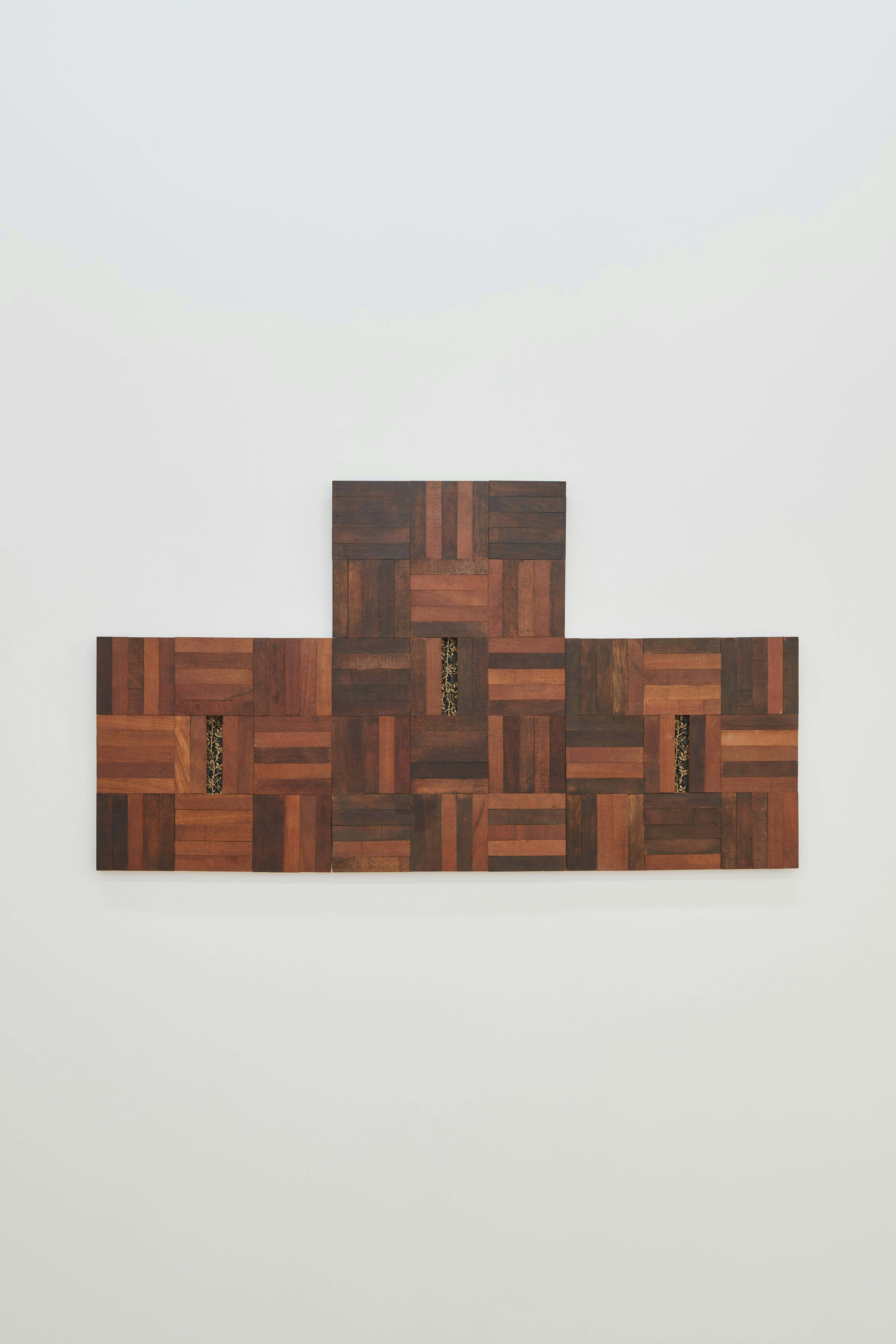 Porcelata, 2023
repurposed parquet flooring, jacquard ribbon
57.5 x 103 cm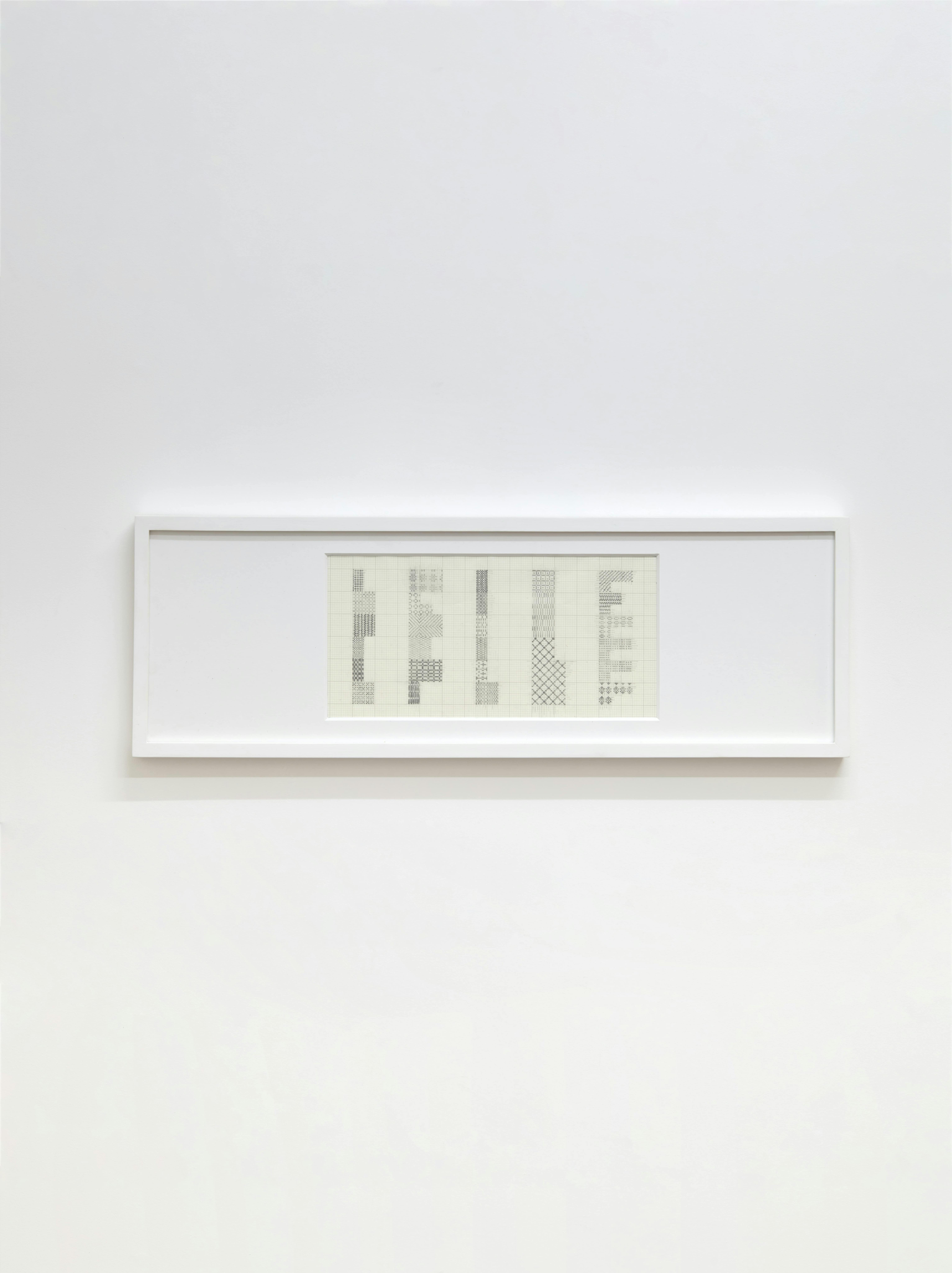 Grid(s), 2023
graphite on graph paper
29.3 x 14.5 cm, 64 x 22 cm (framed)